All about AODA Compliance
What is the AODA and why does it matter?
Important 2021 update: companies are now mandated to comply with New Ontario Web Accessibility Standards by June 30th, 2021.
AODA stands for the Accessibility for Ontarians with Disabilities Act. It was ratified in 2005 by provincial authorities to fix standards for accessibility to services in Ontario.
In 2001, after years of lobbying by advocacy groups, the provincial government passed the Ontarians with Disabilities Act, which required workplaces and websites to remove barriers to participation by individuals with disabilities. It was a big step forward, but it was still very limited because it only applied to government ministries. It also didn't have any enforcement guidelines, penalties, or compliance requirements, so it was clear that the law needed to be updated almost as soon as it was ratified.
AODA is the follow-up to the Ontarians with Disabilities Act. It improved existing accessibility policy, laying out clear rules, deadlines, enforcement systems, and penalties, and an infrastructure that could keep accessibility policy up to date. Among other things, AODA codified standards for web accessibility.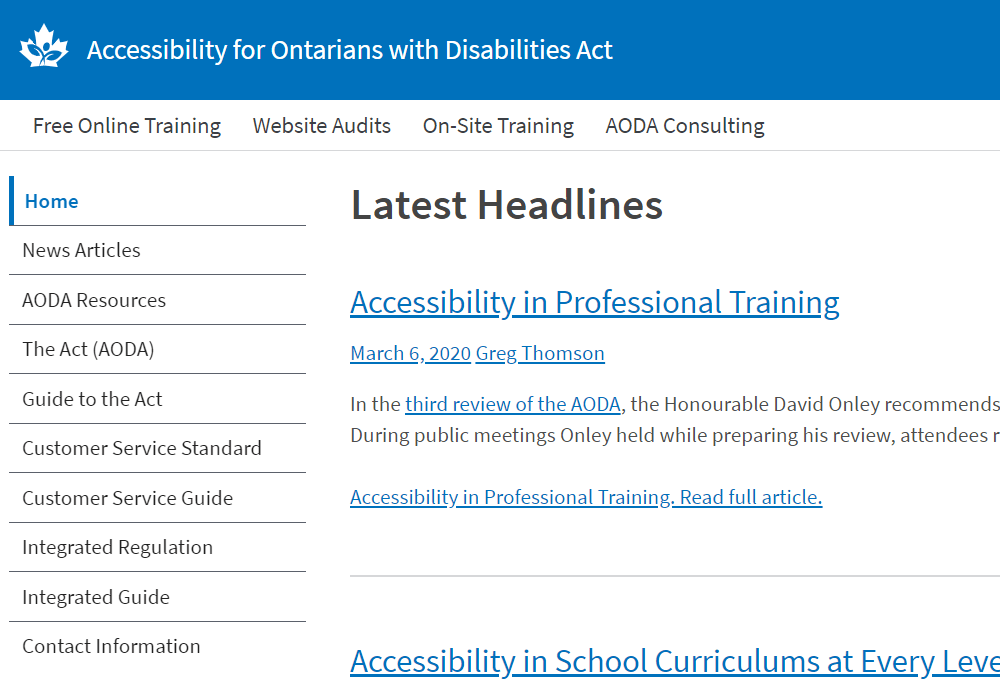 Like most web accessibility legislation, the accessibility standards of AODA are based on the WCAG 2.0 guidelines from W3C. But it has some exceptions for content that can't be made accessible:
Some online maps and complex diagrams. In those cases, website owners need to provide an accessible version upon request, but that version might be lower quality.
Software or programming tools that aren't compatible with accessibility mechanisms and were used to make certain site features.
Web content posted before 2012. If that content is updated, then AODA rules will apply.
AODA has 2-time frames for web-accessible content:
All websites have to reach WCAG 2.0 Level A compliance by January 1st, 2014
Websites have to reach WCAG 2.0 Level AA (other than criteria 1.2.4 (live captions) and 1.2.5 (pre-recorded audio descriptions), by January 2st, 2021
If your business is registered in Ontario, then yes, AODA applies to you. Part II of AODA states very clearly that its rules apply to all governmental and private websites, whether they are run by individuals and corporations.
AODA also set up the Accessibility Standards Advisory Council to advise the Ontario government about future accessibility policy. The council can recommend reforms and updates to the accessibility requirements laid out in AODA, so it's important for Ontario business owners and website managers to stay up to date with changes to the accessibility standards.
What if my website doesn't comply?
AODA's accessibility requirements have teeth, so it's not a good idea to ignore them. Failure to comply can result in fines of $50,000 per day or part day for individuals, and fines of up to $100,000 per day or part day for corporations.
AODA violations are classified into 3 types of infraction:
Minor violations. This is when your website doesn't have some specific accessibility features, like texts that aren't compatible with screen readers.
Moderate violations. When your website disregards accessibility standards, showing a lack of "organizational preparedness" to make the site accessible by missing more than one or two accessibility requirements.
Major violations. This is when your website includes non-accessible elements that could pose a safety or health risk to people with disabilities, like running animations that could trigger a seizure in users with photosensitive epilepsy.
There's room for interpretation within each of these violations, so it's more likely that a business will be fined for a minor violation if this is their first offense, even if that offense could fall into the "moderate" category.
Are there other accessibility laws in Canada that I need to know about?
Although AODA is Ontario's main accessibility legislation, it doesn't replace existing laws that could affect accessibility policy. Ontario already has human rights legislation which forbids discrimination against people with disabilities, the Ontario Human Rights Code. AODA could be seen as an addition to this law, so someone who violates AODA could also be reviewed by the Ontario Human Rights Commission.