The Best Automated Website Accessibility Services for ADA & WCAG Compliance
Affordable $59/month, free 7-day trial, no credit card required
Easy, quick installation for 24/7 compliance
Proof of compliance:  Accessibility statement and certificate of performance
Start Free TRIAL
AUTOMATIC SCREEN-READER ADJUSTMENTS POWERED BY AI
We use contextual understanding and image recognition to scan and analyze the functionality of every element on your website and adjusts it for screen reader accessibility.
LEARN ABOUT OUR AI ENGINES
Alt Attributes – State Controls – ARIA Attributes – Icons & Buttons – Roles & – Landmarks – Forms & Validations
AUTOMATIC KEYBOARD NAVIGATION ADJUSTMENTS POWERED BY AI
Our Contextual Understanding AI engine matches the behavior, style, and structure of your website's elements to millions of past experiences, to learn their functionality and provide keyboard navigation and operation functionality to each of them.
LEARN ABOUT OUR AI ENGINES
Dropdowns – Menus – Popups – Forms – Skip Links – Buttons
PERSONAL UI & DESIGN ADJUSTMENTS POWERED BY AN INTERFACE
Our accessibility interface provides an accessible experience that is tailored to the individual need of every user, regardless of their disability, while supporting a range of UI and design adjustments from content and colors to display and orientation.
LEARN ABOUT OUR ACCESSIBILITY INTERFACE
Content & Display – Color & Contrast
– Live Dictionary – Stop Animations – Mute Sounds – Focus & Emphasis
It's easy to make your website compliant
IMPLEMENT
Paste a single line of JavaScript code on your website or use any of our supported CMS integrations
INTERFACE APPEARS
The accessibility interface instantly appears on your website
SCANNING
Our AI starts scanning and analyzing your website
WEBSITE ACCESSIBLE
In up to 48 hours, your website is accessible and compliant
RESCANNING
Every 24 hours, the AI scans for new and revised content to fix
How do we protect you from litigation?
WCAG & ADA COMPLIANCE
Ongoing compliance with web accessibility legislation
CERTIFICATION
Accessibility statement and certification of performance
DAILY MONITORING
24-hour automatic maintenance scans of new and updated content
MONTHLY AUDITING
Professional compliance audit every month to your inbox
FULLY CUSTOMIZABLE
You no longer need to compromise your website's design in favor of web accessibility. accessiBe's interface offers multiple, seamless customization options so you can easily make it look like a material part of your site.
Customize the interface colors
Modify sizes and shapes
Choose an icon out of 20+ options
Position the icon wherever you prefer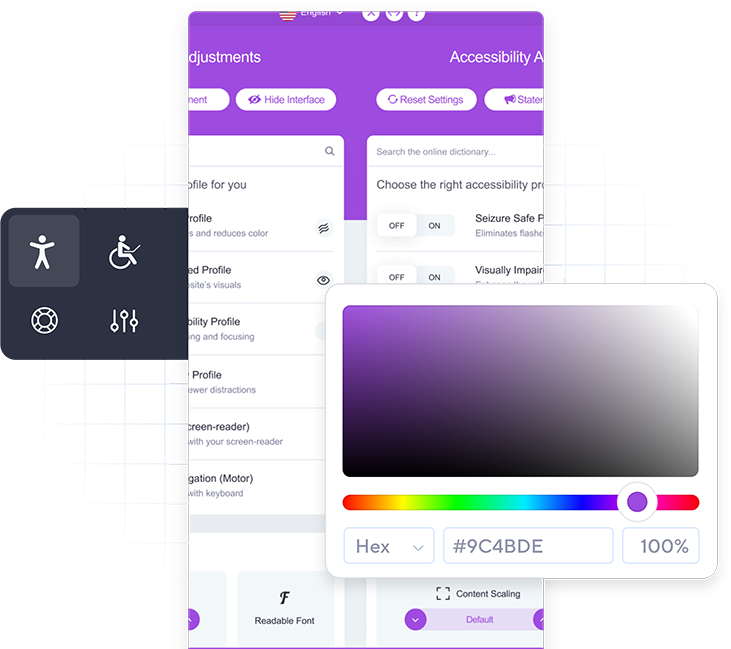 GDPR & CCPA COMPLIANT
Your website's security and users' privacy are top priority
We implement the highest industry standards and practices regarding both the security of the websites we operate on and the privacy of their users. Trusted by industry leaders, you know you are in good hands.
Easily installed in 2-minutes on any CMS or web hosting platform
As simple as installing Google Analytics or Facebook Pixel